TO ALL OF OUR FRIENDS AND SUPPORTERS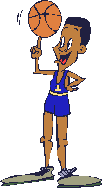 The BAA had been around for three years previously, while the NBL was founded way back in 1937.
When these two rivals merged in 1949, they had 17 franchises throughout the United States. By 1954, these franchises had been consolidated until it reached an all-time minimum of 8 franchises. Incidentally, all of these 8 franchises – the Celtics, Hawks, Kings/Royals,
Knicks, Lakers, Nationals/76ers and Pistons – that played in the 1953-54 league are still a part of the NBA as of 2009-10.
Through the 1950s, the franchises moved from the smaller cities and suburban areas to the big cities. Milwaukee and the St Louis before home to the Hawks, while the Royals shifted to Cincinnati, and the Pistons to Detroit. In fact, the Celtics and Knicks were the only ones to stay in their original locations.
Since its inception, the NBA has been largely exempt from racial discrimination. The first non-white to play in the NBA was Wataru Misaka, a Japanese American. He played in the 1947-48 season, when the NBA had not even been officially formed. In 1950, teams such as the Boston Celtics, Knicks and Washington Capitols introduced African-American players. Today, of course, NBA basketball is dominated by African Americans – Michael Jordan and Shaquille O'Neal being two recent cases in point.
The 1950s saw the introduction of the 24-second "shot clock", designed to curb time-wasting tactics by teams. With this rule, teams had to attempt a goal within 24 seconds of receiving the ball. If they failed to do this, or if the ball did not hit the rim, play would be stopped and the opponent would receive the ball.
NBA basketball in the 1960s can safely be called the "Celtic Age". The Boston Celtics' 8-in-a-row winning stream from 1958-59 through 1965-66 is the longest till date, broken by the Philadelphia 76ers in 1966-67. The Celtics came back again to win the title in the two years after that, and continued to get in a fair number of titles until reaching a very long "dry patch" between 1986-87 and 2006-07.
The relocation of teams to large cities continued in the 1960s. In fact, 1960 was the year when the Lakers became the Los Angles Lakers, moving from their earlier base in Minneapolis. The Warriors moved to San Francisco, and the Nationals(later to become the 76ers) to Philadelphia. In this decade, the number of franchises grew from 8 in 1954 to 14 in 1968.
In 1967, however, the NBA came under threat due to the rise of the ABA, of the Basketball Association. The bidding war between these two leagues started what would be a decade full of excitement and conflict in the 1970s.

"